The 2014 Oscars are upon us, fellow moviegoers! Here's what I think of the Best Picture nominees!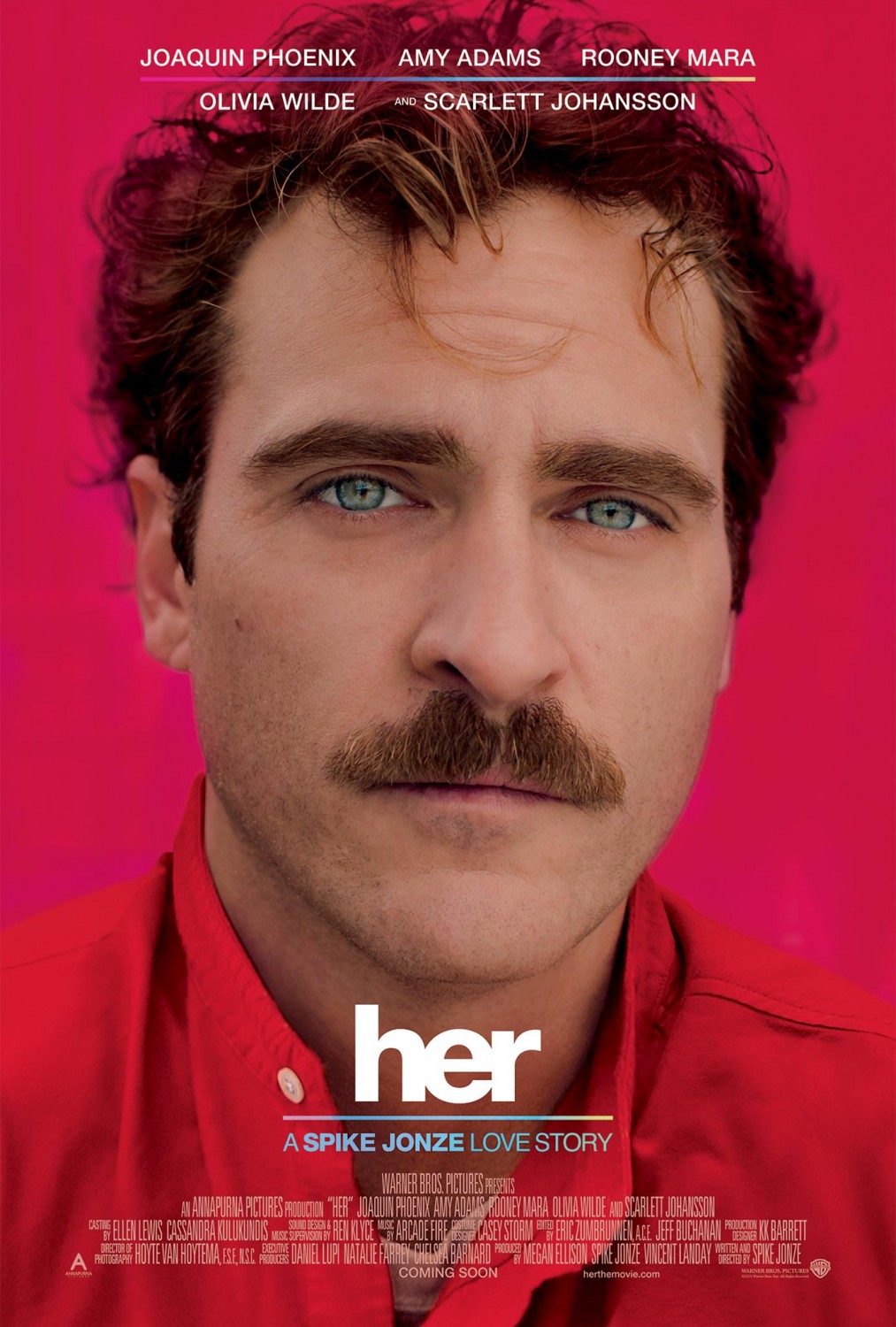 Her is an amazing film that centers on a man that falls in love with an artificially intelligent OS. This movie truly delves into what it means to be a human, what it is to love, and what it means to find new excitement by just living. While falling in love with a computer, as well as several other moments in this movie, may seem weird and off-putting to some viewers, I found it beautiful. This movie was definitely my favorite of all the nominees. If you haven't seen it, you should! It's a truly intriguing concept and a good story.
American Hustle is a crazy movie with an all-star cast, but it's so much more than just that. Following the shenanigans of a con man and his partner in crime, these two are forced to work with the FBI to help bring down a dirty politician. Everything that follows is pure entertainment. The acting was superb, the story was entertaining, and the banter between the characters was hilarious. We never hear the end of Louis CK's ice fishing story in the film, but Jennifer Lawrence's presence made it all better. This movie was a good time!
The Wolf of Wall Street is an even crazier movie than American Hustle that delves into the lives of Wall Street bankers during the 1990s. The acting is incredible, the plot is solid, and it's riddled with nudity and drugs, that being either a pro or con is up to the viewer. This movie is a solid film. If you can look past the boobs and the ludes, Scorsese's direction in the film is captivating and artistic, and that's something to admire after you get tired of watching these crooks party for 3 hours straight.
Gravity is a beautiful film and technological masterpiece that focuses on Sandra Bullock's character as she tries desperately to return to Earth after a disastrous voyage into outer space to make adjustments to the Hubble Telescope. In addition to the sound effects and editing, the visuals are incredible and the acting is flawless, though I found the story a little boring and somewhat tedious to get through.
Philomena is a film about the tragically true story of a mother separated from her child while she was being held against her will in a convent in Ireland. A truly emotional and eye opening journey, this film not only tells a great story with incredible performances, it sheds light on a real issue that people are still struggling with today. Performances are great throughout, and the story is somewhat different from the several stories of long-lost children that flood the current movie market–this one's true. (Sorry, Liam Neeson.)
Nebraska is a film that deals with old age and a journey to self-discovery. As his father's mental health is declining, David decides to do what his family won't–take care of him. Constantly rejecting his family's suggestions to send his father to a nursing home, David shows what it is to care and assist a man that failed to do the same to him when he was a child. An emotional time, this movie boasts a great plot and great performances all around. It's also filmed entirely in black and white, just like Oscar-winning Best Picture, The Artist.
12 Years a Slave is an incredibly gut-wrenching film about the experience of a free black man working as a carpenter in 19th-century New York who is sold into slavery after being drugged and taken away from his family. This movie is so powerful because it doesn't gloss over the truly horrific experiences slaves had to go through. It shows the pure evil that existed in the United States only 150 years ago and it's not uncommon to see this movie compared to Schindler's List. This movie is not just a masterpiece, it's an experience that stays with you.
Best Animated Picture:
Frozen–such a good movie! I'm not ashamed to admit that I've seen this film three times. The music is great, the story line is refreshing, and the dialogue is both hilarious and heartwarming. Frozen is my pick for Best Animated Picture, and if it loses, I will be greatly disappointed. If you haven't seen Frozen, do it. Just do it. Do you not know how to do it? (You'll understand that later.)